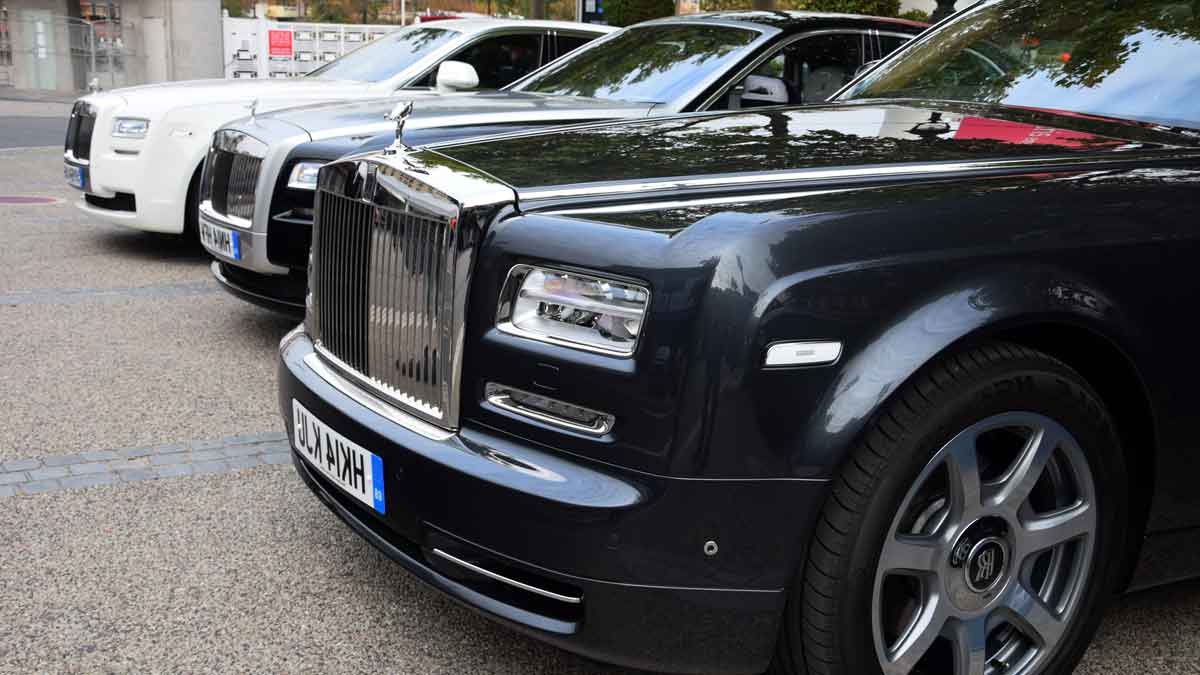 Rolls Royce Limousine Phantom – Premier Edition
With a regal edge and smart contemporary styling, combined with the highest level of performance and a myriad of customized comforts, the Premier Edition Rolls Royce Phantom Limousine is quite likely the finest machine on the road today. The custom 54″(+135 cm) extension provides a posh, spacious rear cabin suitable for small or larger groups of VIPs, royalty, corporate executives, heads of state, and entertainers requiring ultimate style and travel comfort. All of the high-quality touches of Rolls Royce luxury remain untouched while modernizations and hand-crafted custom additions deliver the finest limousine on the global market. The Phantom is still the king of private luxury transport, with its iconic chrome grille, rear-hinged doors, brilliant clear coat finish, alloy wheels, and serene power.
The rear-wheel drive eight-speed automatic Phantom is smoothly powered by a 6.8 Liter V-12, producing 453 horsepower and 531 pound-feet torque with direct injection, variable valve and camshaft control technology. Other custom performance features include an upgraded double wishbone and multi-link auto-leveling suspension, added off-road underbody rust protection, and maintenance-free battery with run-down protection.
The Premier Edition Rolls Royce Phantom is not only the most impressive limousine in performance but in total privacy and comfort. Rear-cabin passengers can relax in near-silent luxury transport with full-tinted rear-compartment windows, a clear-quality hands-free passenger/cockpit intercom system, and a single-pane electric privacy divider. Front chauffeur controls are equipped with a rear-cabin disable option.
Elegant custom details are what make the difference between ordinary and luxury Rolls Royce quality. Plush all-leather seating, hardwood vanity consoles and trim, rear LED halo lighting, an upgraded temp-sensor climate control system, additional personal power port access, and dual pillar-mounted flat screen TVs provide the comforts of a luxury home.
The Premier Edition Rolls Royce Phantom Limousine is a vehicle fit for a king, or anybody who wishes to feel like one.
Rolls Royce Phantom
Premier Edition
54″(+135 cm) Custom Extension
Electric privacy divider up and down between passengers and driver
Hands free intercom system
All leather seats
Upgraded suspension package
Upgraded A/C
Window tinting to rear compartment