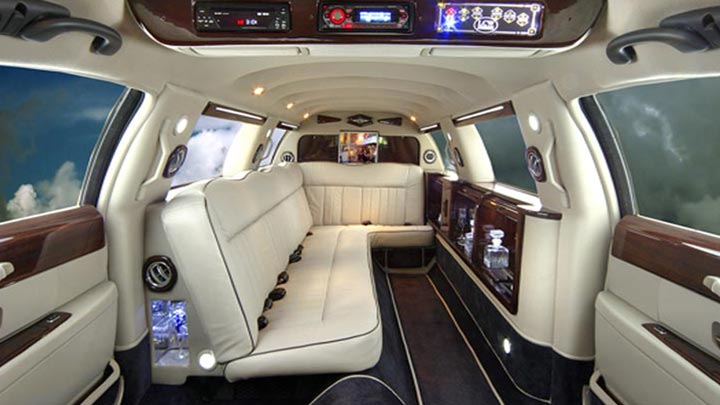 Cadillac Escalade 140″ – Monte Carlo Edition
Impressive & luxurious, the Cadillac Escalade 4×4 Monte Carlo Edition commands the road like no other full-stretch SUV limousine in its class. With a reputation for loads of luxury and style, and a 140-inch (+350 cm) extension, comfortably accommodating up to 14 passengers, the Monte Carlo Edition Escalade is a perfect vehicle for sizable groups and parties of politicians, celebrities, royalty and VIPs who desire a unique, private, and entertaining ride to their chosen destination.
The 140-inch Escalade Limousine is truly a tribute to luxury. The charms and comforts seem endless in the full-stretch 4×4 Monte Carlo Edition, featuring an array of custom items that take the Escalade to the next level of private transport. The full package shines with features that include an electric privacy divider, a clear-communication hands-free intercom system, fully-tinted rear compartment, and a brilliant exterior clear coat finish with trim swathed in chrome.
The Cadillac Escalade has rewritten the rulebook for proud and robust luxury, and the Monte Carlo Edition Limo delivers another impressive chapter with a detail-oriented vehicle with Escalade-exclusive entertaining features including plush leather seating, a cooled, self-draining center-console stainless steel icebox, and embedded decanters with lowball and champagne flute glassware provided. Sony pillar-posted speakers flank a 22-inch (55cm) flat screen TV and dual 10-inch (25cm) LCD TVs. With the roomy design and party features, the 140" Escalade Limo presents a fine rear cabin that resembles a mobile banquet hall.
The all-wheel drive Cadillac Escalade 4×4 offers a powerful though smooth feel with an EcoTec3 420 horsepower 6.2 Liter OHV 16 valve V-8 engine. The Escalade comes standard with an 8-speed automatic transmission with overdrive and sequential sport shift, a computer-balanced drive line assembly, emergency reserve starter battery, 130-amp dual alternator, emergency push out windows, a rust inhibitor applied to the underbody, and an upgraded suspension package.
The Escalade is a bold choice, and guaranteed to satisfy.
Cadillac Escalade 4×4 – Stretch
Monte Carlo Edition
140″(+350 cm) Extension
Electric privacy divider up and down between passengers and driver
Hands free intercom system
All leather seats
Upgraded suspension package
Upgraded A/C
Window tinting to rear compartment